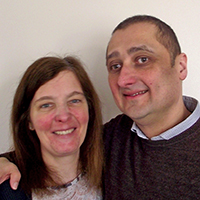 Jim and Louisa are the Senior Leaders of Community Church, they have been married since 1993 and have 3 amazing teenage daughters Hannah, Sarah & Rebekah.
Jim has been a Minister for over 20 years and over the years he has been involved in many aspects of ministry, including children's and youth ministry, schools ministry, prison ministry, evangelism and outreach and youth & children's camps. He has also travelled extensively to minister in nations abroad including Romania, Albania, France, Spain, Africa and Northern Ireland. Jim has a passion to see the church reach it's full potential, and to raise up a generation to take the message of the love of God to our local communities and beyond.
In his spare time Jim likes cooking especially curry, drinking good coffee, playing pool, reading.