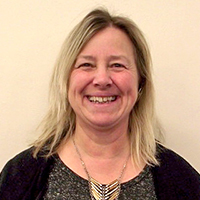 Jill Russell is our Treasurer.
Jill has been involved in the life of Community Church since 1992. As well as being our Treasurer Jill also runs our Girls Alive Club on a Friday night. Jill works in the Insurance Industry and has worked for the same company since she left school.
Jill is married to Martin and they have 2 great grown up children Will and Ruby. In her spare time she enjoys reading her Bible and travelling. Jill has traveled to around 20 different countries of the world.